FEATURED ARTISTS
OUR COMMUNITY
GETTING HERE
IN THE NEWS
RESOURCES
Follow us on FaceBook

The Yarmouth Food Bank
Established in 1987, the Yarmouth Food Bank serves clients from the Yarmouth area and a few families from Shelburne County and Clare as well. The Yarmouth Food Bank Society is a volunteer organization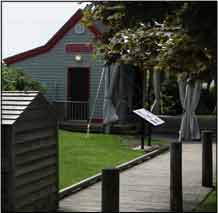 which depends upon donations and support from the community. The food bank serves approximately 400 families every month and your support is greatly appreciated and sorely needed. Over the years there has been an increase in the number of people using the food bank.

Hard economic times with high unemployment combined with rising food prices contribute to increased demand for the food bank services. And higher food prices also make it more difficult for the organization to keep its shelves stocked. For one thing, contributors may be unable to donate as much as they once could since they now have to pay more for their own food. And the food bank itself has to spend more to restock.

The food bank benefits from the efforts of various organizations — churches and service clubs mostly, through food drives and fundraising efforts. As the demand increases however, so will its need for help increase. The Coal Shed Music Festival is a wonderful example of community support for the Yarmouth Food Bank.
Contact the Yarmouth Food Bank
Yarmouth Food Bank Society
2 Herbert Street
Yarmouth NS B5A 2S7
Phone: (902) 742-0918

Open every Tuesday:
12:30 pm to 3:00 pm
(Emergency service available by calling)