FEATURED ARTISTS
OUR COMMUNITY
GETTING HERE
IN THE NEWS
RESOURCES
Follow us on FaceBook

The Coal Shed Music Festival in the News
Yarmouth's Coal Shed Music Festival: 'our best ever,' coordinator says.
When you're in charge of a music event, it's hard to beat a combination of great talent and big crowds, so Phil DeMille had reasons to feel good about this year's Coal Shed Music Festival... Read more

Coal Shed Music Festival to be held in Yarmouth for 10th year, starts Aug. 12
When Phil DeMille decided to launch a new music event in Yarmouth, some people wondered whether he would have enough acts to fill two days. DeMille remembers how he responded to the question...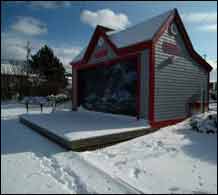 That was in 2007, when the Coal Shed Music Festival made its debut. DeMille's creation, which is about to be held for the 10th straight year, has grown to a nine-day event spread over three weekends. Read more

Coal Shed Music Festival raises $7,000 for Yarmouth Food Bank
The Coal Shed Music Festival has become so hot not even a tropical storm can put out its fire. The five-day music festival on the Yarmouth waterfront faced some challenges with inclement weather during the final couple of days, however in the end it still packed people onto the waterfront and raised about $7,000. Read more

Coal Shed Music Festival to benefit food bank
Phil DeMille has played music long enough to know about all this area has to offer in that department. Read more

Coal Shed Festival Features
The Coal Shed Music Festival continues to grow and organizers hope that's not just good for area music fans but also for the Yarmouth Food Bank. Read more